Tonight sees the awarding of the Mercury Music Prize 2008 in London's fashionable [somewhere in London]. For the serious British music fan, there can be few calendar highlights that shine more brightly than the Mercuries, providing (as it does) an ideal opportunity to prove the breadth and depth of one's musical knowledge without actually having to listen to any music at all. Yes, via a simple mixture of disdain, cynicism, generalising and basic guesswork, you too can be a musical authority of at least equal standing to anyone on BBC 6 Music, or Neil McCormick.
Up and down the country, households are putting the finishing touches to the preparations for their MMP theme parties: mothers are adding the final layers of icing to the traditional Bobby Gillespie Victoria sponge cake; children are positioning buckets of water atop slightly-ajar doors, in order to help their fathers achieve the "Jools Holland look"; students are waking up with the warm glow of knowing that, after 12 long months, it's finally time to break out their M People costumes again. Alcohol supplies are being arranged for the ceremonial drinking games, with extra tables being brought in to hold the shots that are to be downed every time Jo Whiley describes something as "relevant".
What with Rocktimists not having been updated in over a week now, it seems only right that we join in. Welcome to our official guide to this year's runners and riders - will it help
you
pick a winner?
ADELE - 19
WHO?
: Adele Adkins, winner of BBC News' Sound of 2008 poll, whereby ninety-zillion or so of the UK's foremost music-knowing-types suggest who will be the big new thing this year and then Jo Whiley pulls some names out of a hat. Was 19, but might be 20 by now - sometimes, the music industry just moves too damned fast to keep up with. Used to go to the BRIT School, the Croydon talent factory that also churned out Whitehouse, Melys and K-Klass. Possibly sings soul, possibly doesn't, kind of depends who you're asking.
PREVIOUS FORM:
A number one album, a number two single, and a made-up award specifically invented so that she could win it at this year's Brits
still
aren't enough to prevent her having basically spent most of this year being overshadowed by Duffy. Still, she got nominated here, and Duffy didn't...
WHY WILL IT WIN?:
... and so the more cynical among you might suggest that the Mercuries could function as a consolation prize of sorts for the world not quite being hers yet. The prominence of British female solo artists was set up as the UK music industry's "big thing" for this year, and a Mercury would do rather nicely to help re-position Adele at the front of said pack.
WHY WON'T IT WIN?:
There is kind of a feeling that Adele is rather too first-half-of-2008 these days. The bookies have generally stuck her at around the 40/1 mark, suggesting that Adele's not gonna be doing much more than making up the numbers here. Perhaps most tellingly, though, there's no single being released off the album to accompany her nomination, which is an admission that the promotional cycle for
19
in the UK is now over and done with; currently, Adele's attentions are focused on the US instead.
ROUN' MAH HOME-TAAAHN:
Her Myspace is
here
.
BRITISH SEA POWER - Do You Like Rock Music?
WHO?:
Third album from the Brighton-based Cumbrian manly men, famed for their liking of hedgerows, owls, socks, itchy jumpers, Kendal mint cake, and those really, really heavy diving suits that are made entirely out of lead and held together solely with "gumption". And Echo & The Bunnymen. Essentially, they're the band that 6Music was made for.
PREVIOUS FORM:
Surprisingly, not much - they've never really been nominated for anything before, really, certainly not on this scale.
DYLRM?
reached number ten in the UK album chart in January and had kind of slipped down the back of the critical sofa since, until it cropped up on this list.
WHY WILL IT WIN?:
This is quite definitely the one that no-one saw coming on the list. With odds of around 20/1, bookies are giving it a better chance than quite a few other things, and in a list that seems almost more notable for what isn't on it than what is, a suspicion lingers that BSP might be here for slightly grander purposes than getting drunkenly leered at by Lauren Laverne - could this be the sleeper hit of the competition?
WHY WON'T IT WIN?:
That said, it has yet to be established why exactly BSP have any chance of winning this prize at all. The Mercuries, for all their capriciousness, don't really tend to rate shock value particularly high on their list of winning criteria, and that seems to be the biggest thing our woodland chums have going for them.
GRID REFERENCE:
Here is their Myspace
. It's not too shabby.
BURIAL - Untrue
WHO?:
Dubstep artist who attempted to remain anonymous, until his appearance on the shortlist led to The Sun attempting to claim he was Fatboy Slim in disguise. This prompted him to reveal on his MySpace that he is in fact "Will Bevan from South London". As with everyone who has ever introduced themselves as being from South London, this actually means he's from Croydon.
PREVIOUS FORM:
Many reckoned Burial's eponymous debut should have been shortlisted for the prize, but it flew a wee bit too far under the radar; no such problems here, though.
Untrue
is probably the most critically acclaimed record on the shortlist, if not of the entire year. That's still not been enough for it to crack the UK top 40 album chart, though.
WHY WILL IT WIN?:
The bookmakers have this as being the odds-on favourite, with Ladbrokes offering 4/6 on it winning. If that's ever happened before at the Mercuries, I can't remember it. There's a reason why none of the bookmakers' websites appear to be featuring the prize particularly heavily this year, and it's got nowt to do with Portishead missing the cut. Has the added advantage of sounding fuck-all like anything that's ever won the Mercury before. Cutting-edge, "relevant", critically adored, not quite crossed over yet - "Will Bevan" looks to be holding all the cards.
WHY WON'T IT WIN?:
People reckoned Amy Winehouse was nailed on for this last year, then Klaxons snatched it on the rails. The nails are not in the coffin just yet, but this is the overwhelming favourite at present.
SHAMELESS PUBLICITY NODE:
Look at Burial's lovely face
here
.
ELBOW - The Seldom-Seen Kid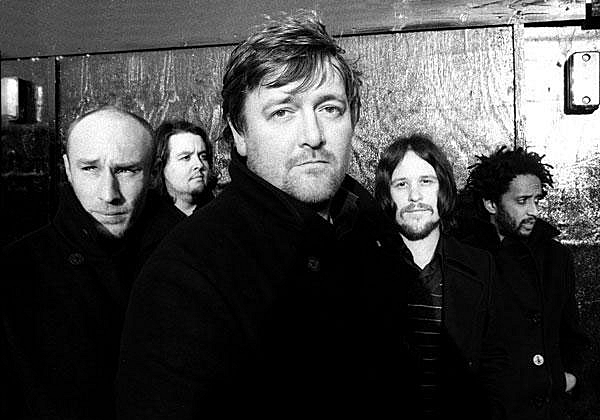 WHO?:
Opulently melancholic rock from Bury or Barrow or "Manchester" if you're feeling particularly slack about your geography. This is now their fourth album or thereabouts.
PREVIOUS FORM:
Elbow's debut,
Asleep In The Back
, was one of the favourites for the 2001 prize but lost out to PJ Harvey.
The Seldom-Seen Kid
charted at number five in March, and has re-entered the top 40 on three separate occasions since.
WHY WILL IT WIN?:
Elbow are the kind of band that seem likely to get love from the Mercury panel, and their status as second-favourites suggests that bookies fancy that their consensus appeal might just pay dividends. Big Chief Rocktimists really likes the production on the record. The sleevenotes have a contents page. Also features Richard Hawley on one track, so perhaps a win here could be seen as compensation for
Coles Corner
getting robbed a couple of years ago. That, and they forgot to bloody nominate him this year.
Oh, and they're touring.
WHY WON'T IT WIN?:
Because Burial's going to. Also, as lushly produced as the whole thing is, describing this record as the "best" anything is... well, it's a bit of a stretch, to put it mildly.

SUNDAYS WE GO DRINKING
:
MySpace y'self
here
. Particularly recommended for people who only like listening to thirty seconds of songs.
ESTELLE - Shine
WHO?:
Comeback of the year? Quite probably. Having basically been left high and dry after the underwhelming performance of her debut album, Estelle got picked up by Kanye West's mate John Legend and went to America to make her follow-up. This patronage resulted in her getting her first-ever number one single, "American Boy", which is still fairly comfortably the best song to have reached the top spot in the UK this year.
PREVIOUS FORM:
Her first album didn't do much, but following her renaissance this year,
Shine
is the only album on this list to have spawned a UK number one single.
WHY WILL IT WIN?:
It's pretty decent. "American Boy" is still rather excellent, and she's almost certainly the best interviewee of this year's bunch. Also, a win here might perhaps railroad her into saying something nice about the UK music industry for once...
WHY WON'T IT WIN?:
UK artist gets left to languish in mediocrity by the British music industry, buggers off to America, bags a global smash hit. One senses this might not be the kind of message the panel will want to be delivering to the kids.
TELL 'EM WHA GWAAN BLUD:
Again, for fans of curtailed snippets, her Myspace is
here
.
THE LAST SHADOW PUPPETS - The Age Of The Understatement
WHO?:
Alex Turner out of The Arctic Monkeys does an orchestral pop side-project with his friend Miles Kane, lead singer of The Rascals, a band perhaps most noted for the way in which every piece of copy about TLSP name-dropped them without ever giving the impression that they'd heard a note of their music.
PREVIOUS FORM:
Every album that Turner's been involved with in his career thus far has been at least shortlisted for the prize; he's also the only person on this year's list to have won the prize before, having triumphed with The Arctic Monkeys in 2006.
WHY WILL IT WIN?:
It sounds a bit like Scott Walker.
WHY WON'T IT WIN?:
It sounds even more like The Coral, and the fact that the strings were arranged by a filthy Canadian might not help matters. Also, no-one has ever won the Mercury Music Prize twice before. And they'll probably be all drunk and say something rude on stage and everyone will be all embarrassed and they won't live it down for
ages
. Bloody kids.
TWENTY LITTLE TRAGEDIES BEGIN:
Myspace
here
, all songs full-length, no shoddy backgrounds, lots of grainy video. Marv.
LAURA MARLING - Alas I Cannot Swim
WHO?:
Debut from straggly-haired London folke childe, thus far best known for being comfortably the most bearable part of Noah & The Whale's summer smash "Foive Yurrs Toy-ee-ime".
PREVIOUS FORM:
Ah, 'cult followings', eh? She's yet to have any kind of hit on her own, and this album hasn't pierced the top 40 yet, but she's been getting buzz off Radios 2 and 6 all year, and this album's generally been quite well-received critically.
WHY WILL IT WIN?:
At 10-1, Marling's clearly the value in the field; a Mercury would be just the ticket for pushing her full-on into the mainstream, and she's probably more chance of staying there than Burial does. Furthermore, this would allow the narrative of solo female UK talent blossoming to continue, but with the added benefit that no-one's ever going to accuse her of being an Amy Winehouse rip-off. Almost as much of a win-win situation as Burial...
WHY WON'T IT WIN?:
... but not quite. Not as folk as Unthank, not as out-there as Burial, a Marling win could too easily be taken as a fudge on the panel's part. The plaudits might well outweigh the pitfalls in this case, though. A small wager on her could well yield dividends.
SUN SUN SUH-UH-UN:
Her Myspace is
here
, and is immaculately maintained, as you might expect of someone who is about 12 years old or something.
NEON NEON - Stainless Style
WHO?:
Another two-headed side-project, this time involving Gruff Rhys from the Super Furry Animals (he is Welsh) and Boom Bip from Boom Bip & Doseone (he is not Welsh). An electro-pop concept album (by which I mean I haven't heard it) about the DeLorean sports car As Seen In
Back To The Future
.
PREVIOUS FORM:
Despite being a good twenty or thirty albums into their career, Super Furry Animals have only ever been nominated for this prize once, for
Rings Around The World
in 2001. Boom Bip has never been nominated, because he is American.
Stainless Style
is another of this year's list that has yet to make an impression upon the UK album chart.
WHY WILL IT WIN?:
Erm... it's on the list, innit? And
Back To The Future
is pretty great.
WHY WON'T IT WIN?:
This is another album that seems to lack any kind of compelling reason why anyone would think it was the "best" at anything - the Myspace clips are, y'know, alright, but really not much more. The odds are middling; the chances are slim at best.
Actually, "I Lust You" might just be giving the coffin a very big nail - Richard X did this an awful lot better. In 2003.
THEY TOLD HER ON ALDERAAN:
Their Myspace is
here
. It is quite pretty.
ROBERT PLANT & ALISON KRAUSS - Raising Sand
WHO?:
HOW DARE YOU NOT KNOW WHO THE SINGER OUT OF LED ZEPPELIN IS! DO YOU NOT REEEEEEEAD MOJO? FILTH! FILTH! He's the one with the beard, by the way. Alison Krauss is a country/bluegrass singer from America. No, I don't know which bit of America. Are they not all basically the same?
PREVIOUS FORM:
Neither of these has been nominated for the Mercury before, but in commercial terms, this is one of the most successful albums here - it entered the UK chart at number four last November, re-entered at number two in December, and has sold very steadily ever since. Also, feller was kind of in Led Zeppelin. They were pretty big back in the day.
WHY WILL IT WIN?:
Another album that has received mad critical love, with the general opinion being that it's Plant's best work in goodness knows how long. Also, Led Zeppelin reformed, and people were kind of happy about that.
WHY WON'T IT WIN?:
This album got to number two in both the UK and US at the back end of last year. It's also about as British as NASCAR. Put simply, there is no album in this list that is less in need of the prize than this one.
BUYING THE STAIRWAY TO HEDNESFORD:
No MySpace, but the official site is
here
and, marvellously, will let you stream the whole album for absolutely nowt. It's sounding rather good thus far, btw.
THE PORTICO QUARTET - Knee Deep In The North Sea
WHO?: Let's ask their label: "Their dance friendly, melodic brand of hook-heavy post-jazz was honed busking across Europe and playing in unusual spaces; churches, galleries and chill-out zones. A weekly session at the South Bank and residency at the Brixton Ritzy earned them a cult following and inspired London 's hippest jazz club, the Vortex , to start a label to release their music. Sessions on XFM and Radio 1 followed and a storming set at the Glastonbury Festival had Q hailing their ' danceable chamber jazz soundscapes' that ' should make them a Glasto fixture '."
PREVIOUS FORM: "Their unique sound has won them fans from Gilles Peterson to Radio 4 and Notion to BBC Music Magazine . Knee-Deep was Time Out's Jazz, Folk and World music album of the year for 2007." As yet, it's not got them into the top 40.
WHY WILL IT WIN?: You've got to think the token jazz entry will wind up winning one of these days...
WHY WON'T IT WIN?: "They describe their ethos as like an Indy band that plays post-jazz". There have almost certainly been worse descriptions in press bios of the other acts on this list, but I haven't read them yet. One day, though. One day. Also, the songs on their MySpace are a bit... dull.
A BIT... DULL: Their MySpace lies this-a-way.
RADIOHEAD - In Rainbows
WHO?: This explains it better than I ever could. Actually, maybe it doesn't, but quoting their press bio wouldn't be as much fun. Basically, without them, Muse would probably never have happened.
PREVIOUS FORM: Another of the acts that got diddled by PJ Harvey in 2001, Radiohead have also previously been nominated in 1997 and 2003, and singer Thom Yorke received a nomination for his solo album The Eraser in 2006. Four nods, no wins. Still, this did go to number one in the US and UK, so they can comfort themselves with that, perhaps.
WHY WILL IT WIN?: Well, quite apart from changing the music industry forever by allowing fans to determine how much they wanted to pay for downloading In Rainbows, then promptly announcing that they'd not be doing that again, this is now Radiohead's fifth go at winning. Much like the token jazz act, surely one day their prince will come...
WHY WON'T IT WIN?: ... but will they really be arsed if it doesn't? Thom Yorke's performance at the 2006 ceremony was that of a man who looked rather fed up with the whole thing, and it's hardly as though this award will boost their credibility at all. Another act that doesn't need the win (albeit that that's not stopped the panel in the past), and probably won't get it.
PIGS, CAGES, ETC.: Amazingly, Radiohead have actually got a Myspace. Their official site is prettier, though. Also needs more blingee.
RACHEL UNTHANK & THE WINTERSET - The Bairns
WHO?: Second album (so far as I can tell) from minimal gloom-folk sisters Rachel & Becky Unthank and friends. They're just a teensy-tiny bit Geordie.
PREVIOUS FORM: First time at the Mercuries, no chart success to speak of, but it was Observer Music Monthly's 17th most favourite album of last year. They also won the "Horizon Award" at the Radio 2 Folk Awards. I have no idea what "Horizon Award" means, though, and suspect I don't want to find out.
WHY WILL IT WIN?: As with jazz, so with folk - it must happen one year. Also, of the albums I have heard, this is easily my favourite. Atmosphere, beauty, character, love, pain, using "gan" instead of "go" - it's everything you could ask for, completely intoxicating, best record on the list.
WHY WON'T IT WIN?: That didn't help The Delgados in 2000. Also, what with Burial being backed to odds-on, a triumph for the canny lasses might well get spun as robbery on a grand scale. We can but hope.
UP WI' SMOKY SHIELDS: Their Myspace is here, features four songs, all awesome.

In summary: mortgage on Burial, overdraft on Marling, crossed fingers on Unthank. Neon Neon all the way, then.